W

ith some justification, South Dakota's Secretary of Tourism Jim Hagen, seems confident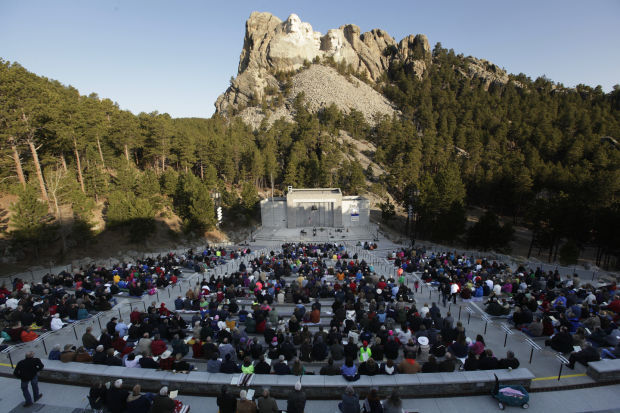 Tourists Love Us




Let's Stay Open For Business

about how 2019 will go for those of us in the hospitality trade.

I'm in the biz, having lodging interests in western South Dakota, where our natural wonders, history and national parks pull in millions of tourists every Summer. Hagen's

remarks

to KSFY-TV noted that '18 was a record year for the industry, pulling in $4 billion, a 2.5% increase over '17. That made for 9 straight years of growth, a decent turn of events, and a nice reflection of the good job that SD Tourism officials, led by Hagen, have been doing. I'm confident that most of my peers would agree.

R

egarding the upcoming season, though, Hagen's forecast that 2019 "will be a really good year" leaves some room for consideration.

Hagen says that consumer confidence remains very high, a point with which I take issue. The University of Michigan's Survey Research Center just came out with its widely-followed reading on consumer sentiment. The indicator took a beating in recent months, with the January number reaching its lowest level since 2016. The survey's index numbers have been

trending down

since last September, with January's drop looking more like a plunge than an incremental point on a downslope. If consumer sentiment is the basis for predicting the outlook for this year's tourism season, I'd be looking ahead with some tempered optimism.

F

act is, even though our statewide spending numbers have been good, National Park Service attractions in the Black Hills/Badlands region saw a falloff in visitation in 2018.

Per data

compiled

by NPS, Mt. Rushmore was -5%, Badlands National Park was -4% and Devils Tower just across the border in Wyoming was -6%. Wind Cave and Jewel Cave were mixed, the former up a bit, the latter slightly lower. South Dakota

state park visitations

were down by 90 thousand for the year. I couldn't find a figure indicating what the percentage drop was in our state parks, but the trend overall seems pretty clear.

A

s to the outlook for 2019?

Secretary Hagen alluded to it in his interview with KSFY. He said that he feels confident that the federal government's partial shutdown will end by the time the peak season begins. That's a big point. We can live with fluctuations in consumer confidence, but severe service cutbacks or even outright closures of our National Park Service facilities would make for a horrendous blow to our tourist economy. The last time something like this occurred was in October, 2013, and it turned out to be a train wreck for western South Dakota's autumn tourism period. I've noted here before that the town of Keystone, at the base of Mt. Rushmore, saw its sales tax receipts fall by more than a third for that period. Extrapolating that kind of falloff over the length of the entire tourist season is a frightening thought.

A

t this point, with vacationers planning their trips and setting up their itineraries, South Dakota's congressional delegation--Senators John Thune and Mike Rounds, along with U.S. Representative Dusty Johnson--need to remember their constituents in western South Dakota and do everything they can to get our national parks, caves, memorials and monuments running normally and as quickly as possible.

Consumer confidence has fallen by a factor of 11% since last September. If Secretary Hagen is correct in using that index as an indicator of how things will go in 2019, we have good reason to be concerned.