So it came out this morning that Republican gubernatorial candidate Kristi Noem, running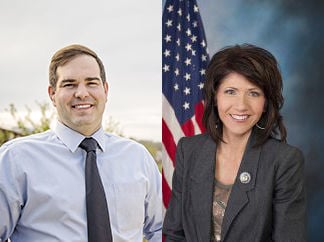 Sutton, Noem

against Democrat Billie Sutton for South Dakota's top job in the statehouse, accepted a measly two invitations to debate her opponent.

In reaction to the

news

, Sutton gleefully announced that he has accepted invitations to a total of ten debates, and is in the process of scheduling five more. Noem's reaction? About as lame as it gets. Her PR people have said that she's already participated "in nearly a half-dozen forums during this year's race for governor," as if we're supposed to be impressed by a gubernatorial hopeful making it to less than one pubic forum a month during an election year.

S

ince Noem won her primary June 5, I see that she turned up at a few parades, where appearance matters and, by circumstance, substance is avoided.

As things are developing in the race, this may actually be the central strategy of Noem's campaign. She already flunked her first test as a candidate capable of addressing a major issue, namely education, when she

declined an invitation

from the Associated School Boards of SD, School Administrators of SD, and SD Public Broadcasting to debate school policy last August 10. This was a profoundly revealing rejection, because I can't think of a public setting where differences in education policy can be more directly compared and contrasted.

Considering that unlike Noem, Sutton was eager and ready to debate the issue, Noem's refusal to meet up in that venue is tantamount to a concession that she can't get specific about her plans for education in this state.

Her

website

states that Noem "is committed to balancing the needs of families, teachers, administrators and taxpayers," but amazingly fails to list students among those who have needs. The running theme about education in her website is about developing students who will discover "in-demand jobs" and graduate with "job-ready skills." I guess this means stressing vocational training, a view that needs some explaining and expansion. Unfortunately, by ducking the August 10 confab, Noem missed an opportunity to clarify her thoughts.

T

hen again, her decision to skip the event may have had more calculation to it than meets the eye: there's a lot of risk to getting on the same stage with a popular and gritty contender whose biography has a storybook quality to it.

Noem will compare unfavorably to Sutton on a personal level and no doubt has good reason to keep joint appearances with him at a minimum.