G
overnor Dennis Daugaard's affection for our state of South Dakota got a big thumbs up from me last week. His piece in the RCJ, concluding with the line "I wouldn't trade this place,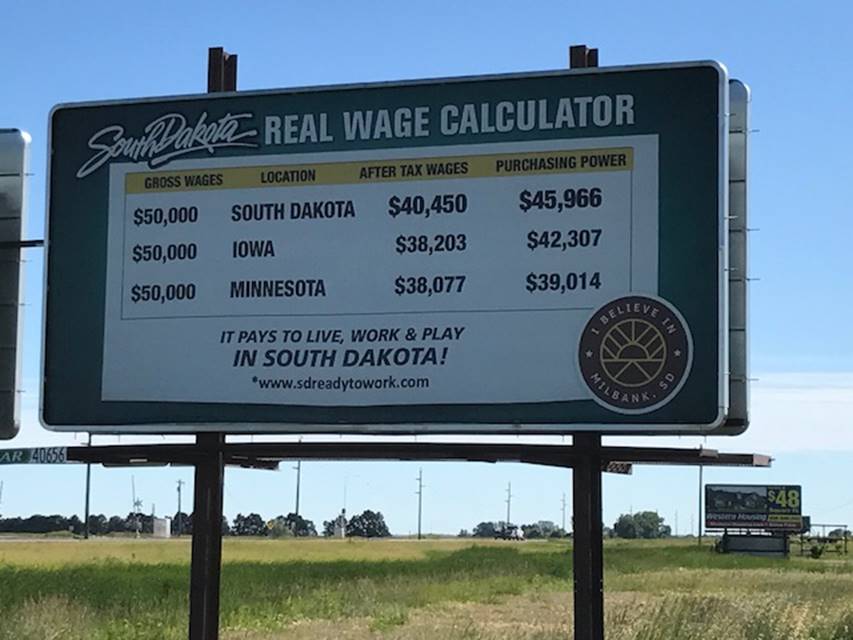 Nice Try




Nobody's Buying It

with its wide open spaces and down-to-earth people, for anything" is a sentiment I love and share. The "down to earth" part is especially compelling because of its suggestion that the general attitude in our state is focused on reality and the practical approaches to dealing with our issues. It's a generalization that has lots of exceptions, no doubt, but after having spent the first two-thirds of my life in L.A. and Chicago, my impression is that there's something to it. I love my social and professional dealings with people here, and consider myself blessed to be able to accomplish what I have while in the embrace of this unbeatable Black Hills lifestyle. I'm staying put.
B
ut much as our mutual love of this state is a powerful bond, I wonder why Daugaard rejects the "down to earth" acceptance of the reality that our state has little attraction for the workers that we need to maintain a decent semblance of economic growth. Last week's release by the U.S. Bureau of Economic Analysis second quarter GDP figures show a national growth rate of 2.6% while South Dakota's GDP fell by 3.8%, the second worst showing in the country. That the problem is created by South Dakota's dependence on agriculture, which has been in the doldrums in recent years, only underscores the need for economic diversification as a way of smoothing out the ups and downs of a commodities and natural resources-dependent economy.
T
o do that, w
e probably have to step things up in our manufacturing sector, a fact that Daugaard acknowledges with his efforts to overcome South Dakota's persistent workforce shortage. On that front, Daugaard is singularly rejecting the notion that wages in this state are low. Calling attention to an arcane wage-measurement scale called "Regional Price Parity," the governor correctly notes that when adjusted for inflation, SD wages on the whole compare favorably to other states. However, the scale that Daugaard uses doesn't differentiate between rural and urban districts. When our state's two largest metro areas (Rapid City and Sioux Falls, accounting for 42% of SD's population) are broken out of the statewide analysis, the picture is quite different. Those two centers come in at the low- to mid-90s of the national average, which puts almost half our population at close to the middle of the national pack. The big statewide advantage disappears in our cities, where non-ag economic growth is going to happen.
A
"down to earth" assessment of the situation would understand that when it comes to retaining and attracting a good workforce, South Dakota has a lousy reputation. During the past couple of years, South Dakota has been ranked among the 10-15 worst states to make a living in USA Today, Forbes, and MoneyRates.com, which makes for a powerful arsenal of arguments against the public-relations efforts of our state's public- and private-sector leadership. Those of us that live here may believe otherwise, but we're up against a set of pre-judgements and perceptions that will keep making economic growth difficult. Remaining obtuse, even delusional, about our "great" wage structure won't make it any easier.