W

hat, again? Governor Daugaard last week ordered immediate cuts in state agency budgets because tax receipts this year have come up short by 10-15 million bucks. In his typical
caretaker-like fashion, the governor is being re-active when what we need is pro-active leadership.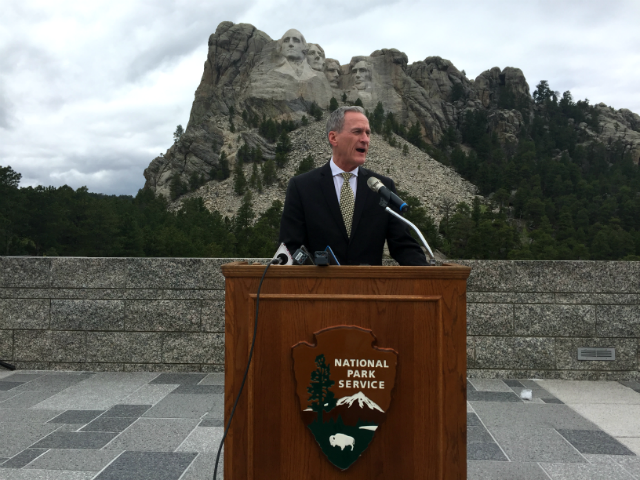 Daugaard
Banking On Tourists
T
he chronic problem with the falloff in sales tax receipts in this state isn't likely to get solved by doing nothing but cutting overhead, or,
more to the point, by standing around and crossing our fingers that grain and livestock prices will reverse course, go significantly higher, and pull enough revenues into this state to get the cash streams flowing again. This rather calcified process that masquerades as policy has been the bane of the Daugaard administration for years now. In 2014, SD forecasts for sales taxes fell
significantly short
of estimates, much as they have this year, with no 2017 relief in sight beyond the
hope of a strong tourist season
bringing in a surge of cash to help the state pay its bills.
E
ven should that occur, we're continuing to rely on broad economic and market forces beyond our control to determine our state's fiscal destiny. Twice now in the past 3 years, forecasters have gotten it wrong and there's no reason to expect their crystal balls to get any more prescient. Meantime, our sales tax revenues fluctuate with the whims of the commodity markets, which seems amazingly inefficient, considering that taxation based on personal income would probably be a much more stable alternative. The ag sector in South Dakota now has 76% less money to spend than it did in 2011, to the tune of around $3 billion. That debacle, as noted by our elected officials, is probably the most responsible for our sales tax woes. Meantime, I was startled to discover in a report from
Unfair
And Inefficient

the U.S. Commerce Department's Bureau of Economic Analysis that our personal income--derived from a wide array of non-ag related businesses in South Dakota--during the decade from 2006-2016 grew at a compound annual rate of 4.2%, substantially faster than the U.S. growth rate of 3.5%.
W
e're too self-fixated on our status as a state with no income taxes, as I often hear, but I think some comprehensive tax reform that reduces sales taxes, puts a freeze on property taxes with strict limitations on annual increases, and initiates a progressive tax on income, both personal and corporate, merits consideration.
Ideally it would result in a tax shift, not a tax increase. Using U.S. Census Bureau data, the financial information website 24/7 Wall Street reports that income growth in South Dakota households from 2011-2015 ranged from 5% in the middle levels to nearly 10% in the upper. The story lists us as one of the 9 states in the country where the middle class is being left behind, income growth disparity (definitely a subject worth pursuing in another post) being a good reason why. Given the trend, a graduated income tax seems like a reasonable way to expect people making good money here to bear their share of the burden, which they now escape given our regressive and bumpy sales tax-dependent system. The dots between tax fairness and smoother government revenue streams look connectable to me.