W
hen our Governor Dennis Daugaard last week signed the death warrant for Initiated Measure 22, the law passed by voters last November that seriously reformed South Dakota's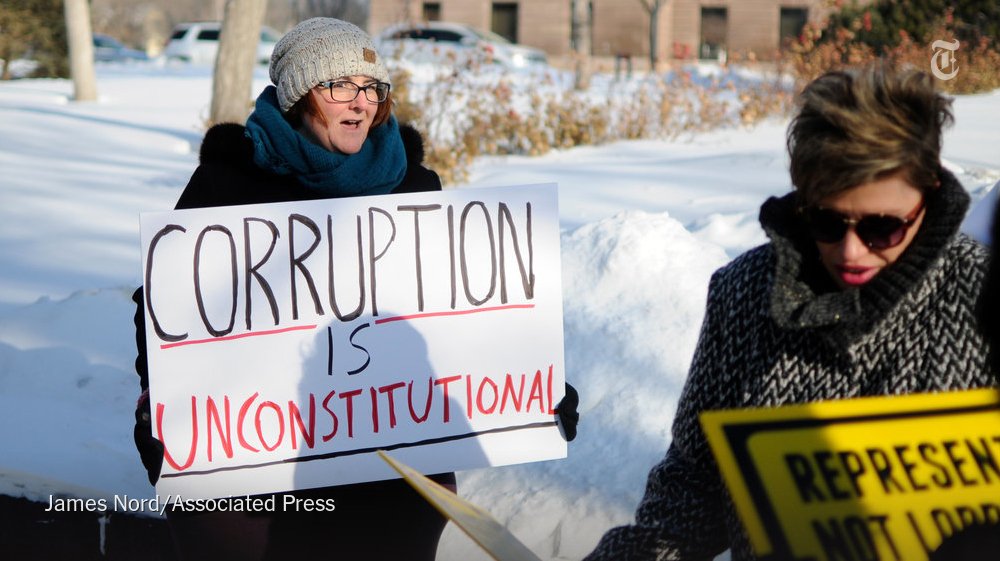 Complaining In Pierre




Didn't Do Much Good




(photo from AP)

campaign and governing procedures, he was unequivocal about one thing. Said the Governor upon signing House Bill 1069, effectively repealing the law put into place by a majority of voters: "I will work with legislators to honor the will of the voters." Our collective decision as expressed at the ballot box is utterly irrelevant to our governing class, so they've taken it on themselves to write a spectrum of laws that they believe are more closely aligned with what they deem to be "the will of the voters."
O
r have they? Sure, about a dozen or so bills are in the hoppers of both houses that are connected to government reform. The 2-year hold on lobbying activities by officials exiting government is a nice one to see, as is the thinly (mostly Democratically) sponsored bill establishing a government accountability board. Progress on that one (HB 1076) will be a true test of Pierre's resolve to honor the voters' will. Others seem vague and limited in effect--about what you'd expect from legislators who write laws that will affect their longstanding operations. One example? In the spirit of reform (and redundancy--isn't there already a law like this in place?), Senate Bill 27 makes it a crime for public officials to take any actions that "result in a direct financial benefit" to themselves, which I think leaves the door open to "indirect" financial benefits being okay. Even casual students of the English language would understand that a word like "direct" can be subjected to a wide range of interpretations and legally-parsed manipulation. Another example? House Bill 1073 keeps IM 22's $100 gift limit from lobbyists to elected officials intact, but (as Aberdeen blogger Cory Heidelberger's excellent analysis notes) waters down the voters' intent by restricting fewer recipients, leaving out altogether legislative and executive staffers. And, oh yes, meals with beverages costing up to $75 don't count as gifts. Bon apetit!
I
f the sense of wiggle-rooming their way out of honoring the will of the voters is starting to
How Others See Us




Does Anybody In Pierre Even Care?

creep into the conversation, there's also a stalling device to liven up--maybe "deaden" is a better way to put it--the discussion. Similar bills in both houses (SB 171 and HB 1141) will set up a task force to study government accountability and report back to Pierre in time for next year's legislative session. Both bills envision a task force consisting of government officials and a small number of hand-picked (by them) state residents. The House bill calls for the state Chamber of Commerce to have a seat. Nothing against the Chamber, a great organization of which I am a long-standing member, but the representation on these proposed task forces doesn't reflect much in the way of a broad swath of South Dakotans. It looks to me like the only task this force, laden with entrenched state officials, is likely to undertake is finding a way to sustain the status quo under the guise of "honoring the voters' will."