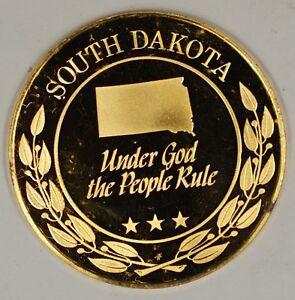 Nice Thought
Does It Still Apply?
S
outh Dakota Governor Dennis Daugaard has found his place in the state's history. He'll go down as the chief exec who led a revolt by the government against its own people. The surreality of
it notwithstanding, that's exactly what happened yesterday when Daugaard signed a bill (House Bill 1069) into law, essentially invalidating an Initiated Measure (IM 22) that South Dakota's voters passed last November. The measure was a drastic reform of campaign and governing procedures in the state that was widely discussed and debated for months before the election. Overall it was a draconian overhaul of the status quo, limiting lobbying expenditures, creating an ethics commission and putting a public financing of campaigns component into state election procedures. That last bit caused me to vote against the measure, but nearly 52% of voters believed that it was a good thing, so the measure carried.
T
he reaction in Pierre was reflexive and dismissive. Of course you'd expect an entrenched political class to react in horror to a change as sweeping as IM22. But what caught naive observers (like me, I guess) off guard was the utter rejection and dismissal of the state's official claim to be the place where "under God the people rule." Apparently that ethos doesn't mean much, and I certainly suggest that the Governor and the legislature expunge it from all official South Dakota insignia, lest we become even more of a laughingstock in the national conversation about this event. South Dakota, the first state to adopt statewide initiatives and referendums (in 1898), has a historic commitment to its belief that the people rule. It took nearly 120 years for that resplendent imperative to get wiped out. Trickle-up democracy just got swamped by an avalanche of official contempt for the voice of the people.
S
upposedly, the next step from South Dakota's governing class is to prepare and pass a set
So Says The Center For




Public Integrity

of reforms that they believe are more consistent with what the voters have in mind. Daugaard says that "he and the legislators will work to honor the will of the voters." I wasn't aware that divining what voters are thinking is part of the Governor's job description, but given the collective arrogance of this enterprise, I'm not surprised to hear that he and his supporters actually believe that voters were thinking one way and voting another. Considering that the reforms Daugaard must have in mind will apply to those who are affected by them, I'd have to say that Daugaard's intent may be good, but the follow-through will be a waste of time. I'm looking forward to doing a point-by-point analysis of the reforms that come from a political cast of characters who reject the notion that in South Dakota, the people rule. Prove me wrong, South Dakota pols.