T
he ongoing harangues against the Affordable Care Act (Obamacare) among our U.S. reps has been de rigeur among congressional Republicans since the act's inception in 2010. But now that those dogs have caught that particular car, they seem a bit befuddled. Vowing to repeal
Noem, Rounds, Thune




Obamacare? Grrrrr . . .

Obamacare, which Senator Rounds called a "sinking ship" last week, our federal reps, including Senator Thune and Congresswoman Noem, seem utterly clueless about how to proceed. For one thing, Rounds has already referred to a "gradual transition" toward a replacement, which means he's bereft of ideas on what to do next. Meantime, Congresswoman Noem says she wants to "retain safeguards for pre-existing conditions and allowing kids to stay on their parents' plans." Telling the Rapid City Journal last month that "we need to give people more choices, not more mandates," Noem doesn't understand the linkage between ACA's individual mandates and insuring for pre-existing conditions. We can't "choose" our way around that reality.

Senator Thune hasn't said much on the subject of replacement, though he's voted to end Obamacare numerous times over the years, no substitute in sight.
I
think all three of them are just doing their partisan best to convince South Dakotans that repealing Obamacare will be good for us, details to be provided later. What they haven't done is make a case for replacing a status quo that in the aggregate seems to have been pretty good for this state when it comes to health insurance. We've seen significant declines in the uninsured rate, per data from the U.S. Census Bureau. Findings from the Department of Health and Human Services show that 6,000 young adults now get coverage through their parents, and in a well-documented fact sheet put out by Families USA, 74,000 South Dakotans could lose their health coverage altogether if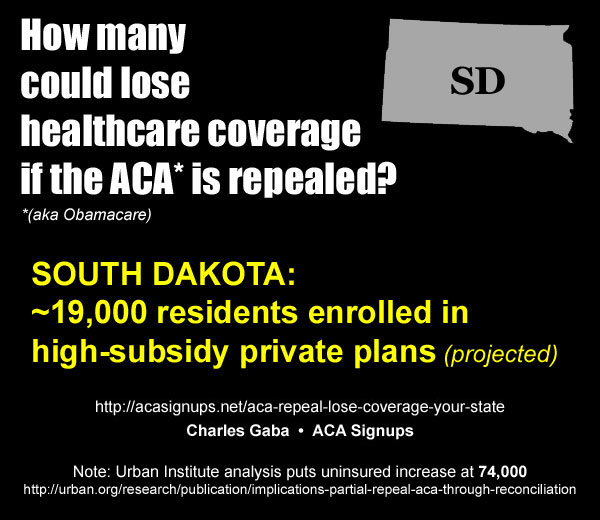 We Better Look




Before We Leap

Obamacare is repealed outright, most of them among the 346,000 of us who have pre-existing conditions like asthma, diabetes or cancer. Meantime, if 2016 premiums in South Dakota grew at the same pace as the national rate, families on average are spending $1,400/year less on health insurance than they would have if pre-
ACA rate increases were still in force.
T
here doesn't seem to be much doubt that ACA has had some significant statewide benefits for South Dakotans, a fact that suddenly seems to be dawning on our Republican U.S. reps and their partisan colleagues in Congress. It's looking more and more like a slower-motion process will turn the chest-thumping and reckless rhetoric about immediately repealing Obamacare into the deliberative process that it needs to be. I admire that Pubs want to keep the best of ACA but am dubious about how they can do that by repudiating a system that most Americans (75%) either want left intact or abandoned only if a suitable replacement is found.