I
n a rarely--if ever--displayed act of collective petulance and rejection of reality, the South Dakota legislature has made a strong push to repeal a law that was passed by voters last November. That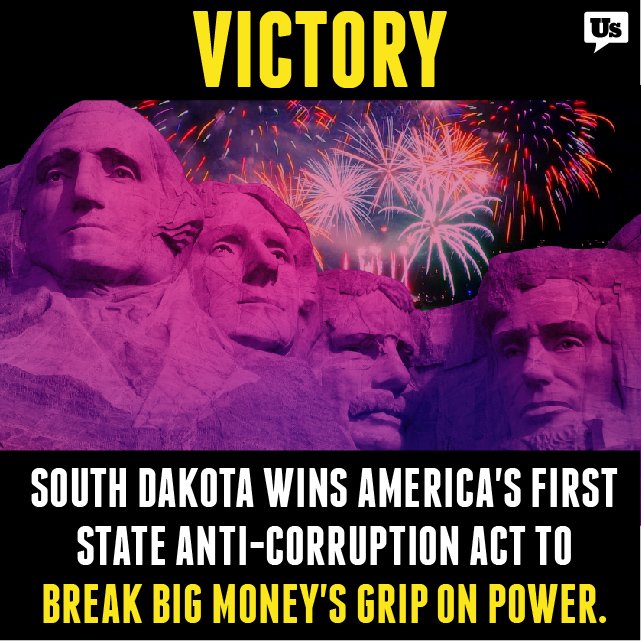 And Our Political Class




Can't Stand It.




(photo from Twitter)

law was Initiated Measure 22, which contained a package of campaign and governing reforms deemed unacceptable by those who are most affected by it--elected officials in the State of South Dakota. The law imposes strict limits on lobbying, creates an independent ethics commission and provides for public financing of campaigns. That last point made me vote against the Initiative, but the rest of it is just fine with me, along with a whole passel of South Dakota voters who were satisfied enough with all the elements of the measure to approve the Initiative by a 53% majority.
S
upporters are justifiably fed up with South Dakota government's lax oversight of its operations. That laxity was embarrassingly and expensively exposed in the past few years by scandals (EB-5, Gear Up) that resulted in suicide, murder and the loss of millions of dollars of public money. It's little wonder that South Dakota government gets an "F" from the Center For Public Integrity, which places us 47th worst in the country in the corruption sweepstakes. IM 22 is swamp drainage, South Dakota-style.
A
lawsuit against it is now in the court system, where it is properly being scrutinized for constitutionality. We should all be fine with the legal process it's undergoing. But, surprising as it isn't, the law is also being attacked by the legislators who are most affected by it, which is unseemly and transparently self-serving. Spurred on by Governor Dennis Daugaard, who has already condescendingly and dismissively written off the voters' will by saying they were "misled" and "deceived" by supporters of the measure, the legislature is moving to repeal the law altogether. 76 House and Senate Republicans (no Dems) are sponsoring House Bill 1069, which basically guts the
A Status Quo
That Has To Change

law, provision after provision.
C
onsidering that IM 22 has already been deemed unconstitutional in its first court test, mainly in anticipation of a final judgement at the state supreme court, I'd say the odds favor the whole thing being thrown out. If so, a more constitutionally-conforming version will probably surface. Considering the legislative panic this thing has already provoked, unsympathetic voters ready for reform will likely approve a revised version in even greater numbers. In their cavalier presumption that they know what's best for South Dakotans despite a voter mandate that says otherwise, our stubborn political class can't grasp that the public is ready for some serious change.