G
lad to have been part of the noise. Eventually, reality bites hard enough to get some attention, so when I joined the chorus of outrage over low teacher salaries in South Dakota, I think my two cents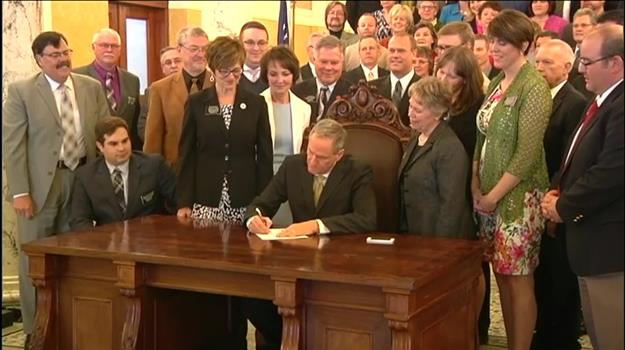 Daugaard Signs Teacher Pay Bill




Cue In Etta James: "At Last"




(photo from kelo.com)

added something to the value of the momentum that was building. That was back in 2013 when TCC first started up. It was frustrating to come up against the institutionalized indifference to the deplorable salary situation that South Dakota's heroically dedicated teachers were contending with. I remember being spurred on almost exactly two years ago when Governor Daugaard's office, confronted with some clear data showing how badly things were going on the salary front, dismissed the idea out of hand.
D
augaard's son-in-law and communications director Tony Venhuizen was particularly insensitive and uninformed about the situation. He offhandedly blew off the matter by telling the Rapid City Journal that the low salaries were okay because just weeks before, Governor Daugaard "mentioned in the state of the state address that South Dakota has the lowest cost of living." That was in early 2014, and the premise that SD is a cheap place to live was just as inaccurate then as it is now. Along with others (Cory Heidelberger at Dakota Free Press comes immediately to mind), this blog repeatedly called attention to studies that uniformly showed South Dakota to be about in the middle of the American pack when it comes to cost of living. That only aggravated the awful status of South Dakota's teachers as just about the lowest paid bunch of pros in the business.
F
rustrating as it was to get repeatedly dismissed and ignored, those of us clamoring for better teacher pay finally got the most important ally of all: reality. When it became obvious that the teacher shortage in South Dakota was reaching critical mass, so much so that a crisis was in the offing, Daugaard finally responded with his "blue ribbon" task force to investigate the situation, which gave institutional imprimatur to the notion that teacher salaries had to rise. The task force recommended a hike in sales taxes to raise the money needed to increase teacher salaries to levels that are reasonably competitive with those in our surrounding states.
T
he result materialized today with Daugaard signing the education funding bill, much wrangled over in the legislature but ultimately successfully resolved. Raising the money via sales taxes is not the best way to go in a state that already has a sales taxation system that is one of the most regressive in the country. I think the funding should be subject to reconsideration, probably as
She Works Hard For The Money




She's Finally Getting What She's Worth




(photo from argusleader.com)

part of a package of tax reforms that would even out the tax burden in this state, but for now, the immediate problem has been contained. There will be time enough during Daugaard's remaining tenure to address the need for some revolutionary changes in South Dakota's tax structure.
T
hat Governor Daugaard has been willing to make history by lifting our teacher salaries to competitive levels unheard of in decades says much about his capacity to defy the status quo. Taking on a calcified taxation system that punishes the lower classes and rewards the rich will perhaps be even more daunting a task, but considering that the retiring governor has nothing to lose politically, he's in a situation to promote and provoke fairness. Even more loudly than duty, history calls.