T
rying not to laugh . . . Amid Seth Tupper's excellent piece in today's Rapid City
Last Or Close To It Again




We Can Do Better




(graphic from ksfy.com)

Journal on South Dakota's awful showing (47th out of 50) in the non-partisan Center For Public Integrity's ranking of states in terms of "laws and systems in place to deter corruption," SD Governor Dennis Daugaard's son-in-law (who serves on the public payroll as Daugaard's Chief of Staff) Tony Venhuizen makes the fatuous observation that the state hasn't enacted these measures because South Dakota "has very little history of corruption."
W
hy "fatuous?" Not so much because of the recent EB-5 and GearUp imbroglios that come immediately to mind (I have to
respect the presumption of innocence and wait for the justice system to prove corruption), but because Venhuizen, speaking for Governor Daugaard, blithely dismisses the need for codified and institutionalized measures that can do much to prevent unethical and criminal behavior. Some basic oversight that would have stifled conflict-of-interest potential in both of those brouhahas might have spared all of us South Dakotans from watching millions of dollars go unaccounted for, not to mention the tragic aftermaths of
suicide
and
murder
that seem to be directly related to both affairs.
I
t would actually be nice for Governor Daugaard himself, who has already acknowledged that he believes some "mishandling" of money occurred in the EB-5 situation, to explain to us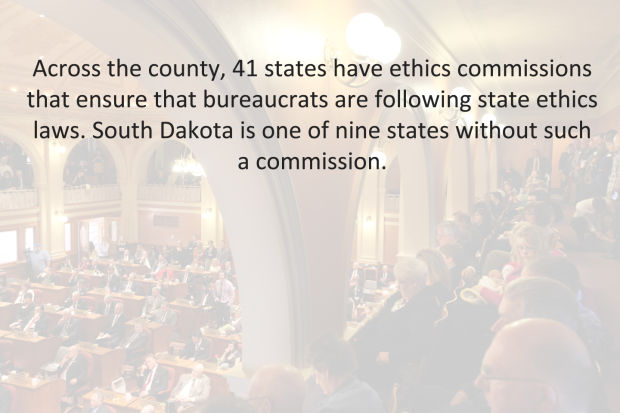 Interesting
Time For A Change
(graphic from rapidcityjournal.com)
just exactly why he hasn't pressed for stronger oversight of these matters. Meantime, I find it rather disgusting that my Republican Party's leadership is ridiculing efforts
to change the status quo by petitioners who've taken matters into their own hands by putting measures on to the November 2016 ballot that would
remove partisanship from primary elections,
then
scoffing, via the GOP's most prominently supportive blog in the state, at a measure that would make
compehensive changes in electioneering, oversight and financing of elections.
T
hough I'm enthusiastically supportive of the first measure and dubious about the contents and prospects of the latter, both proposals are a response to a status quo that has proven itself incapable of making South Dakota particularly efficient or open--or moving us upward in our standing among states on so many fronts. That Republicans here are pooh-poohing
these efforts without proposing much in the way of substantive changes themselves is a telling revelation of the party's attachment to business-as-usual. Governor Daugaard leads a party that is overripe with self-satisfaction.