T
he folks that operate downtown Rapid City's Main Street Square went overboard
last
Rapid City's Main Street Square




There's A Place For Us, All Of Us




(photo from mainstreetsquarerc.com)

week (Sept 27, during the "Great Downtown Pumpkin Festival") when they kicked petition signature gatherers off the premises.
Not only did they kick them out of the publicly-owned Square itself, they told the petitioners to scram from the sidewalk that is adjacent to, but not part of, the Square
per se
. According to the story in
yesterday's Rapid City Journal
, MSS contends that the sidewalk is within its event boundaries, so the non-profit group operating it for the City of Rapid City is well within its rights to "enforce a total ban on petition circulation during events."
T
hat seems way extreme to me. Maintaining public order is one thing, but a "total ban" on an essentially peaceful expressions of our country's democratic processes? Uhhh, no . . . I don't think so. For their parts, some of these petition gatherers can be obnoxious and aggressive, so to that extent they need to be reined in, but their activities are so integrated into the essence of what our country is all about that banishing them outright from crowd-drawing activities on public property is an affront
to what we stand for.
I
'm a multi-use kind of a guy when it comes to permissible activities on public land. For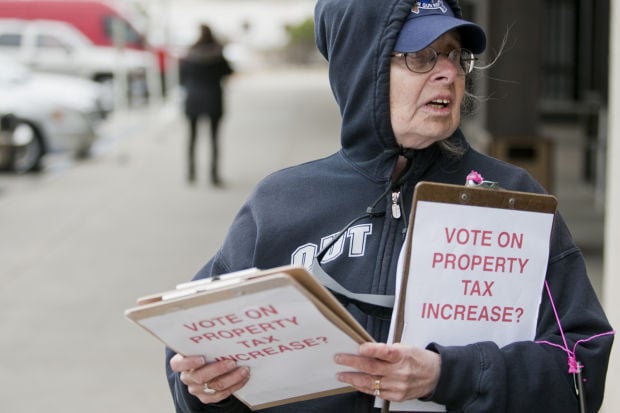 Democracy At Work In Rapid City




A "Total Ban" On This On Public Property? No Way.




(photo from rapidcityjournal.com)

example, when it comes to the Black Hills, all of us are taxpayers who own them, and though we have different ideas about what should and should not be allowed there, I think we can live with a collective compromise that gives each special interest a chance to do its thing as long as the activity is lawful and doesn't damage the area. Same principle applies to Main Street Square. It's publicly owned and should be accessible to the entire public, including people who see it as a venue to advance their political causes.
B
ut an important part of that compromise, understanding, social contract--whatever you want to call it--means the general public doesn't have to be hassled as part of the deal. You want to be out there gathering signatures, fine--just don't get into my face and start haranguing me. I don't need it. I'd much prefer it if a piece of our jointly owned land were reserved for you to make yourself visible and available to those who have an interest in the cause you're pushing.
S
etting aside a section of the Square itself or a portion of the adjacent sidewalk seems a reasonable way of settling the issue. It would conform to the general operation of MSS, which has areas for vendors of commercial products. In this case the area would be reserved for vendors of political products, i.e., petitions. I would think the signature gatherers themselves would be better off because the end result would be an informed public, not an annoyed one.