A
t yesterday's Rotary Club luncheon challenger Steve Allender and incumbent Sam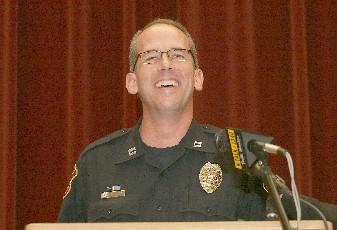 Allender
Do I Dare Ask What The Joke Was?
(photo from rapidcityjournal.com)
Kooiker went at it.
Each took his turn and made a decent case for himself, though I keep wondering how Allender can go on claiming that Rapid City's economy has been "flat" during Kooiker's tenure, not even able to keep up with the general statewide economy in South Dakota. I did a fairly thorough job of exposing that delusion a few days ago by searching through statistical data provided by the South Dakota Department of Revenue that showed gross sales receipts in Rapid City have far outpaced the rate of inflation by a factor of 3. That's growth folks, that's not "flat."
For his part, Kooiker has been calling attention to building permit numbers that have remained at record to near-record levels for the past few years. I think the data speak for themselves, but Allender remains unconvinced, telling the Rotarians "sales tax and building permit numbers" don't tell the whole story about the economy.
S
o okay. If Allender insists that two of the most reliable conventional indicators out there won't convince him that Rapid City's economy has been growing at a snappy pace during Kooiker's tenure, I'd like to know what data he uses to support his pessimistic conclusion that this town's economy hasn't grown during the past few years. I challenged him to share his metrics and indicators with me, told him I'd be bringing it up here in the blog, and am waiting for the information, which I will share here, posthaste. It's only been 24 hours. You'd think somebody who was so certain about the flaccid condition of the local economy would have some facts to back himself up, facts that should be at fingertip proximity, but Allender apparently needs some more time to think about it. No sweat. I'm a patient man.
M
eantime, another issue regarding Allender has suddenly welled up, both through the blogosphere and the conventional media. An atmosphere of racist jocularity apparently characterized Allender's tenure as both cop and police chief. Cory Heidelberger over at Dakota Free Press produced a long account of it in his blog this morning, noting differing views about the situation from two former Rapid City cops, both Indians, one (Glenn Yellow Robe) from Rosebud, one (Ken James) a Santee Sioux from Nebraska. Yellow Robe, who sued police chief Allender, Allender's predecessor Craig Tieszen, and the City of Rapid City for racial discrimination and harassment, claims in a section of the lawsuit titled "Undisputed Material Facts" that Allender tolerated a work environment at which Yellow Robe, during daily briefing sessions, "was subjected to demeaning and derogatory comments about Native Americans," generally in the guise of humor. Though Yellow Robe (who participated in the jocularity, according to the text of the lawsuit) ultimately lost the case on a summary judgement, the "undisputed facts" paint a nasty picture of offensive and insensitive levels of immaturity and meanness that were common to the department. This was racism by locker-room mirthiness.
Y
esterday's
Native Sun News
provides a more detailed recap of some of the utterances that
Yellow Robe (2nd from right) And Family




The Jokes Really Weren't All That Funny




(photo from indianz.com)

Y

ellow Robe says came out of Allender's mouth.

In NSN, Yellow Robe claims that he had "years of putting up with Allender's racist comments and jokes," including Allender asking at mealtime, "what's on the menu, today, a bowl of guts?" or "a slab of lab?" Yellow Robe says that Allender once asked a Jewish officer if his lunch consisted of "foreskin kabobs." This is pretty repulsive stuff, stomach turning in its imagery and intent. While Allender is preparing his indictment of Rapid City's economy, I hope he takes the time to address this by now widely circulated litany of racism by humor.
I
n the meantime, there is that supporter of Allender from inside the Indian ranks of the RCPD, Ken James, who, according to a link (the content of which is "currently unavailable" according to facebook) in Cory's blog is unrestrained in his admiration for the former chief.
As quoted by Cory, James says: "I am supporting Rapid City Mayoral candidate Mr. Steve Allender in the June 2nd election.

As a former Native officer serving the fine citizen's (sic) of Rapid City over a decade, it was a (sic) honor to work side by side with a dedicated public servant." James recounts how Allender was personally helpful in defusing a potentially dangerous situation involving a female tribal officer.
T

here's no way I can reconcile this difference of opinion, but I know Rapid City well enough to be certain that the issue won't fade away. Just on the basis of what has been documented and left uncontested in Yellow Robe's lawsuit, there's truth to some of this. On the basis of that we need to consider how Rapid City would look with a mayor who as a public official thought some of this stuff was pretty funny.