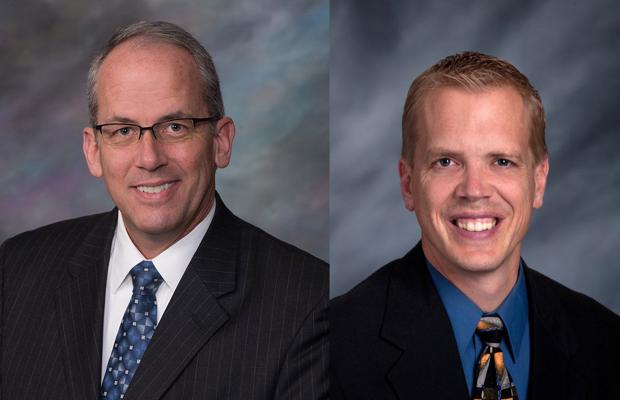 Challenger Allender (L.) & Incumbent Kooiker
(photos from rapidcityjournal.com)
I
was at the Rapid City candidates forum at the School of Mines last night.
First off, congrats and thanks to the Chamber of Commerce and the Homebuilders Association. Great job, ran smoothly, most appreciated. I came away with a fairly good sense of the candidates--their personas, their priorities and their perceptions.
O
f course I was mainly focused on the mayoral candidates, incumbent Sam Kooiker and challenger Steve Allender. They mainly sparred over processes at City Hall, specifically focused on the amount of red tape that developers have to cut through in order to get their business done. Kooiker claimed that he's been streamlining the process, to which Allender counter-claimed that it's still too slow and cumbersome. Both claimed, tacitly by Kooiker who says more needs to be done, and overtly by Allender who calls for what sounds like a complete overhaul of the process, that a problem exists.
B
ut
n
either candidate came up with specifics necessary to document that there is indeed a problem with "red tape."
This is actually getting kind of frustrating, if not altogether monotonous, mainly because the age-old complaint about too much red tape at city hall has been an ongoing issue in every mayoral election I remember here, going back to the 1980s, and everyplace else I've ever lived, including L.A. and Chicago. For one thing, I believe "red tape" is endemic to the process of getting things developed and built in any city. Do developers think they exist in a vacuum and should be able to move forward with projects that directly affect hundreds, maybe thousands, of taxpayers without going through an exhaustive permitting process? Of course there has to be some significant amount of time spent clearing numerous hurdles in the approval process. For another, I doubt that they can find friendlier permitting confines elsewhere.
A
llender keeps telling us that his first priority is to identify the problems, which is fine and dandy, but I think it's his job as a challenger to have already identified those problems and explain just exactly what he intends to do about them. He's the one attacking the status quo and he should be ready to present us with some specifics. I'm leery about voting for someone who tells me there's a problem but he won't identify it until after he's elected.
K
ooiker has the same issue with non-specificity. I do appreciate that he's come up with a list of some things that have indeed changed during his administration, but his vague pronouncement that
more needs to be done isn't good enough for those who need to know what he has in mind when he uses that word "more."
A
llender thinks we should identify cities that have a streamlined permitting process and copy them. Okay, but all due respect Mr. Allender, why haven't you identified those cities already? Seems like if you're so sure they exist that you'd name them and explain exactly how their systems can be copied here in Rapid City.
K
ooiker meanwhile claims to have identified the "thorns" in the streamlining process, but I have yet to see a listing of those "thorns" and just exactly what his plans to do away with them are.
M
ost frustrating of all is that nobody seems to have identified the mystery developers who they claim are having trouble with all the red tape at city hall. If somebody could name some names for us and explain what the specific problems are this whole dialogue would have a lot more credibility. I've invited comment from those affected by permitting delays in doing business with the City of Rapid City, an invitation that remains open-ended, not stopping with the election. So far there haven't been any takers. Maybe the candidates could be more forthcoming?
A
llender, Kooiker . . . you guys need to understand that you can't go around making political claims and charges without backing them up with facts and specifics.
So let's hear it. Who's having trouble with red tape at city hall?