C
ould it be my many years of experience as a Main Street retail businessman when it was
Retail Sales In Rapid City




As Big As All Other Sectors Combined




(graphic from blackhillsknowledgenetwork)

obvious to me that the economic state of my community's well-being was reflected in my city's retail sales? Or was it that 12 or so years I spent making markets on the trading floor of the Chicago Board Options Exchange, where every monthly report recapping consumer spending--which is about 70% of our country's economy--was met with joy or dismay, depending on which direction the numbers went. Maybe it's that monthly recap of sales tax receipts that's sent out by the South Dakota Retailers Association to my business with a generally understood sense that the numbers are a reliable gauge of how economic activity is progressing in South Dakota.
M
aybe it's just
me, but it is hard to single out the source of my infatuation with sales tax revenues and their indication of how things are going in the economy. I'm smitten, I guess. And that's why I took it rather hard when Rapid City mayoral candidate Steve Allender blithely dismissed sales tax receipts (along with the torrid pace of building permits, by the way) as a picture of how things are going in Rapid City's economy, which he's been dissing and using as an example of incumbent Mayor Sam Kooiker's poor handling of his job since 2011. Allender's negative view of the economy surfaced during his televised debate with Sam Kooiker on May 3, to which I responded the following day with data from the South Dakota Department of Revenue indicating that sales tax revenues have steadily increased, outpacing inflation (and population growth) by a healthy measure, namely 6.8% a year, on average, from 2011 through 2014. Inflation during that period averaged 1.7%. I concluded that contrary to Allender's view, the Rapid City economy is healthy, vibrant and growing.
A
t the Rotary Club debate the following Friday Allender responded by saying that sales taxes and building permits are not enough of an indicator to conclude that the Rapid City economy has been good. I challenged him there to make his case, which he did here the following day. I invite readers to review Allender's post and its supporting data, including graphic information from either the "Black Hills Region" or "metropolitan Rapid City," neither of which is actually Rapid City-specific, but of some interest nonetheless. You can draw your own conclusions. I've drawn mine.
A
nd the conclusion is? I stand by my opinion that the upward growth curve of sales tax receipts in Rapid City is a good indicator of an overall healthy economy. It seems self-evident to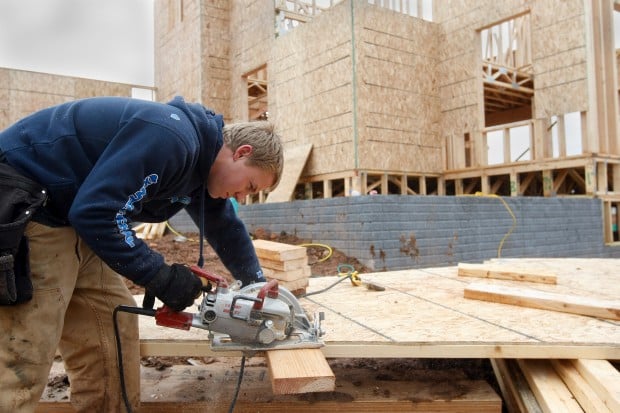 And Don't Forget That Strong Pace Of Building Permits




(photo from rapidcityjournal.com)

me that good sales tax growth is a sign of a good economy, but that could well be my own subjective, solipsistic view of the world. So I went to other sources for confirmation or contradiction and actually got the former--from about as solid a resource for economic data analysis as you can find: The University of Wisconsin Extension's Center For Community And Economic Development and its Wisconsin Main Street Project, focused on communities of 100,000 people or less. If you think this is all about Wisconsin, think again. The UWEX project is part of a consortium that includes similar centers at the University of Minnesota and Ohio State.
S
o what do some of the country's leading researchers conclude about sales taxes as an economic indicator? Just this: "Higher levels of sales tax revenue indicate higher levels of consumption--a result of a strong economy and consumer base." It also notes that: "Retail sales are a strong force within today's economy. A local economy with strong retail sales reflects a strong consumer base with a willingness to spend."
I
would think this is especially true in an economy like Rapid City's. In our town, retail trade looks to be about the size of all other economic sectors combined. Growth in retail sales is the big gorilla of our city's economy, whether we like it or not, so serious, real growth in that sector has to be pleasant news for anybody following economic affairs in this town. The challenge to whomever gets elected mayor next month isn't to right an already upright economy. It's to find ways to spread its benefits and opportunities out to the population and into sectors beyond retail.
T

hat's what Allender and Kooiker should be tussling about. This city's economy is just fine. Where we take it, not where it's been, is the critical issue.