C
all me greedy and self-interested, but in the finest tradition of great Republican virtues, that greed, that self-interest, is what will motivate me to vote yes on the school district "opt-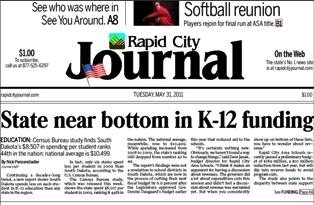 Feeling Proud, Rapid Citians?




This Has Been Going On For Too Long, Now




(photo from rapidcityjournal.com)

out" on June 2. As the spouse of a lifelong public school teacher and the dad of a K-12 Rapid City Schools-educated daughter (whose outstanding foundational education here culminated in an honors degree in Economics from the University of California, Berkeley) I of course have a strong attachment to our local public schools and only want the best for them. But really, in my heart of Republican hearts, I'm looking at it from another level, which has a lot more to do with the economic basis for getting our schools up to speed with the money they need and can't seem to pry out of state funding sources.
Y
es, it's true that the Rapid City Area Schools (RCAS) opt-out essentially means that property taxpayers in the district will have to cough up about $72 a year for every $100,000 that their properties are worth. Having no idea of the average or mean value of all the properties in the district, I'm guessing that for a lot of property owners, maybe most, the extra tab will amount to a few hundred bucks. Not having kids or grandkids in the school system, there's that natural side of me that's pretty much apathetic to the situation in our classrooms. But that is such a short-sighted view because it ignores the value of our schools as a major component in the overall value and economic well-being of our coummunity.
E
verybody who's ever made a real-estate transaction knows darn well that one of the first things that comes up in the marketing process is the quality of the local schools. Homes near high-expectation schools typically demand a premium for that reason, and I think that that micro-reality expands to a macro-consideration when it comes to a school district as a whole. This year's budget cutbacks amount to more than $6.5 million. Taken line-by-line, you can see that they're an outright reduction in staffing and support services for our kids. You can argue that more cutbacks could have been directed at administrative positions and salaries, but you'd be wasting your time. If readers would like to send me a breakdown of administrative positions that could be reduced or eliminated and just how much money the district could save by going that route I'll be happy to post them as a comment here.
Y
ou could also argue
(which I've been doing here for years now) that the State of South Dakota could find ways of moving more money into the state's education budget, but you'd get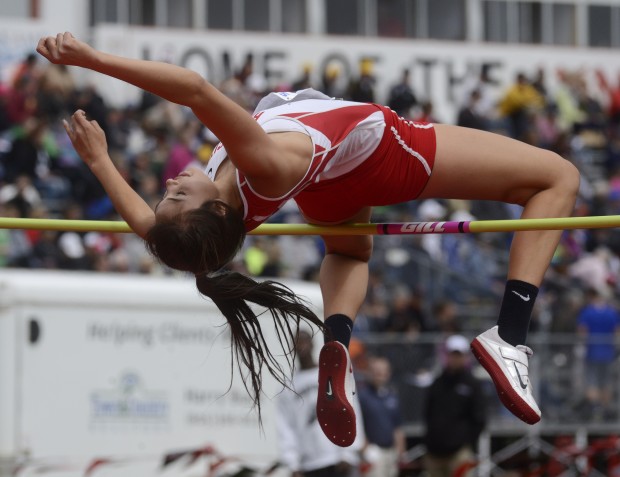 RC High Schooler High-Jumping




Showing The Rest Of Us How To Aim High




(photo from rapidcityjournal.com)

nowhere.
The problem we face is that the schools need money now. After being hectored by sources from around the state since he took office in 2011, Governor Dennis Daugaard has finally responded by appointing a commission to study the teacher pay crisis during the next few months, apparently needing a committee to confirm the fact that teachers making anywhere from 25% to 45% more money in our neighboring states amounts to a problem of significant proportions. Nothing against the folks on the committee, but I do wonder why we have to go to these lengths in order to master the obvious.
S
o what's the most efficient way for us locals to deal with Daugaard's lethargic, if not altogether indifferent, attitude toward the deteriorating quality of our schools? You'll be looking at it on June 2 when the opt-out comes to a vote, which is a decision about our schools for their own sake and about our economy for the community's sake. A vote in favor will enrich Rapid City on both counts.
ADDENDUM, added at 1309 4/26:
Here's the current school year budget
for the Rapid City Area Schools. I invite readers to check it out and share any thoughts about it here.