A
zarga Uranium Corporation (AZZ.TO), once known as Powertech and still known as the
In Situ Uranium Mine In Australia
This Is What Azarga Wants To Do In The Black Hills
(photo from www.decarbonise.com)
outfit that wants to forever alter the character of the groundwater in the southern Black Hills by mining for uranium there, seems to be strapped for cash.
The company just came out with its
audited financials for the year that ended on December 31, 2014
, and the conclusion isn't very pretty for investors, although those of us who would just as soon see the company abandon its plans for mining in the Black Hills and get lost for good have to find some comfort in Azarga's financial perils.
T
he year-end report's independent auditors were certainly unimpressed. The guys and gals with the green eyeshades were from BDO International, the mega accounting firm that has 60,000 people working for it out of nearly 1,400 offices scattered all over the world. It collected more than $7 billion in fees last year. I certainly hope their check from Azarga cleared, considering how negative they are about the mining company's prospects. If you can follow the link to Azarga's financial report (sorry about the complex navigation, it's the best I could do) you'll note that BDO had this to say about Azarga and its financial condition: "Without qualifying our opinion, we draw attention to Note 1 in the consolidated financial statements, which indicates that the Company has not yet achieved profitable operations, has a working capital deficit of $1,567,300, an accumulated deficit of $6,272,029. These condition along with other matters as set forth in note 1, indicate the existence of a material uncertainty that may cast significant doubt upon the Company's ability to continue as a going concern." *
A
s if this dreadful prognosis isn't trouble enough for Azarga, the company seems to be in hot water with its securities regulators, the British Columbia Securities Commission. I have no way of knowing how closely this matter is tied to the complaint file

(

File #20150123-13143/ Azarga Uranium Corp. AZZ.TO)

that BCSC opened at my request last January when I complained about misleading statements made by the company regarding the progress of its licensing efforts in South Dakota (there were several follow-up letters by others after I posted the process of filing). What we do know from Azarga's own just-filed preliminary economic assessment (PEA, available in the link provided above) is that as of March, 2015, "the British Columbia Securities Commission ["BCSC") has identified certain technical disclosure deficiencies relating to NI 43-101 that will necessitate the filing of an amended PEA by the Company in the near term. The Company is in discussions with the BCSC regarding the amended PEA and related disclosure, and intends to issue a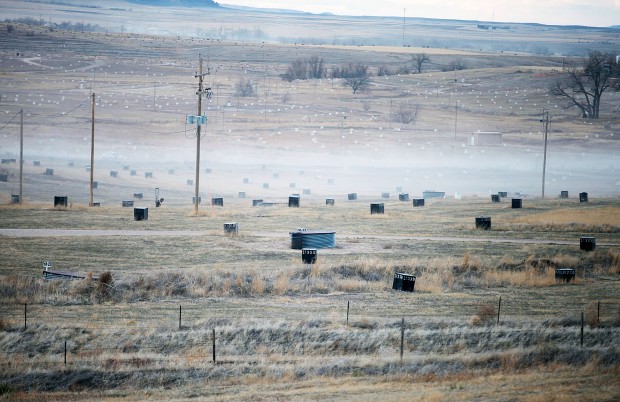 An In Situ Uranium Mine In Nearby Crawford, NE




This Is What Azarga Will Do To The Black Hills




(photo from RC Journal, 12/23/12)

news release clarifying the disclosure in the PEA and an amended PEA following such discussions. As such, investors are cautioned not to place undue reliance on the information incorporated by reference into this MD&A from the PEA until such time as the Company issues a clarifiying press
release and an amended PEA in consultation with the BCSC."**
S
o what we have here is a publicly traded company whose outside auditors are casting "significant doubt upon the Company's ability to continue as a going concern" and whose securities regulators are cautioning investors "not to place undue reliance" on the company's economic self-assessment. Why has South Dakota taken a "hands off" approach to regulating this matter? Just last January, Governor Daugaard was telling the Rapid City Journal that

"

I don't like the notion that the state duplicates federal regulation. So to the extent that the Atomic Energy Commission or the EPA is looking at this, I think we should let it run its course. I don't think it makes sense to disregard scientists, simply because they are not from our neighborhood." Why is Daugaard willing to give the feds authority to regulate this mine in our precious Black Hills when he is simultaneously telling the Western Governors Association that "States should be treated as co-regulators of the environment?"

That was

a resolution that Daugaard propsed to WGA, which adopted it last summer. This inconsistency is both glaring and troubling.
S
outh Dakota needs to keep close tabs on a company like this. And while we're at it, somebody should inform Governor Daugaard that the Atomic Energy Commission was dissolved in 1975. That its successor during the past four decades, the Nuclear Regulatory Commission, didn't come immediately to mind makes me wonder if Daugaard is detached from this whole affair. I certainly hope the above information is getting our governor's attention, post haste.
*Page 3, Azarga Consolidated Statement issued 3/31/2015
**Page 6, Azarga Management Analysis and Discussion issued 3/31/2015