S
teve Allender's campaign for mayor of Rapid City didn't take long to expose its willingness to use any tactic it can to unseat incumbent Mayor Sam Kooiker. Former police chief Allender's blog Chiefsview a few days ago took to hyperbolically questioning Kooiker's
Candidate Allender




Here's A Fish Story




(photo from blog.keloland.com)

leadership during the course of the city-wide debate over the civic center expansion this past Winter. "Who is leading our city?" asks Allender after criticizing Kooiker for turning to the Chamber of Commerce and asking those folks to lead the campaign in favor of the expansion, which voters ultimately turned down by a 60-40 margin. Allender concludes that Kooiker did so "evidently to shield himself from political fallout."
T
o which I can only say, you have got to be kidding me. First off, I'm no fan of Kooiker, having pasted him here on occasion and calling him "chicken-you-know-what" a number of years back for dodging a forum on TIF-financing that I moderated during one of his earlier runs for mayor. I was hoping Allender would be an appealing alternative--but after reading his hit job on Kooiker I'm having my doubts. Allender's tortured attempt at calling Kooiker's approach to the civic center expansion vote an effort to escape political responsibility is self-servingly inaccurate. Kooiker, who may have bungled the process of getting the effort off the ground in the first place, made it plenty clear that he supported the expansion without reservation or hesitation. That Kooiker, besides favoring the expansion, was also diligent in his efforts to include the public in the process by helping circulate the petitions that would bring the matter to a vote is pretty darn commendable in my view. Yet Allender somehow concludes that Kooiker was trying "to play both sides of the same coin."
I
don't think so.
M
eantime, just where the heck was Allender while this city-wide conversation was going on? Allender calls the failed expansion effort a repudiation of "Sam Kooiker's promise of open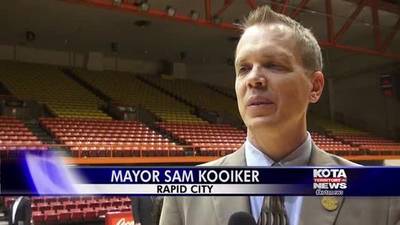 Kooiker Pushing For Expansion


He Was Out There




(photo from onenewspage.com)

and honest government," which makes for a nice blog-byte but completely ignores the fact that there were numerous public gatherings for months before the vote where citizens had ample opportunities to examine and question the project. I don't know how much more "open and honest" government can be. Did Allender attend any of these functions? Did Allender speak up on the subject of expansion when it was loudly and frequently discussed? I was at two major forums during the weeks ahead of the vote and don't recall Allender making a peep at either of them. Talk about shielding one's self from political fallout. A twisted interpretation of events is one thing, trying to make political points out of it is another. This is a real disappointing entree for me into the Allender campaign.
I'
ve invited both Allender and Kooiker to use The Constant Commoner as a public forum during the course of the campaign. I certainly hope they'll both come out of the comfort zone of their respective blogs and engage the public blogosphere right here.