T
ouchy, touchy, touchy. The whining out of Aberdeen from Republican Senator David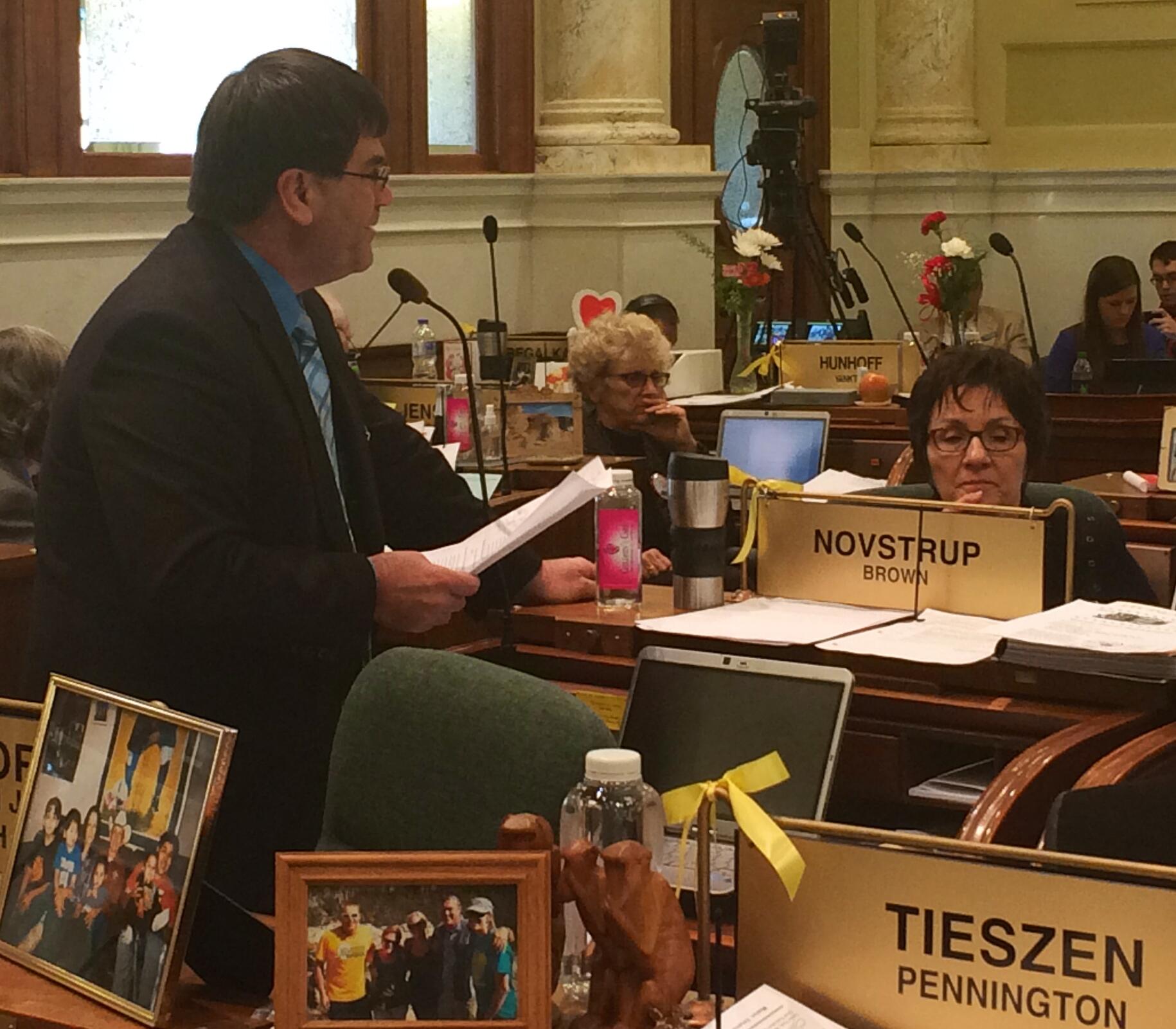 David's Dad GOP Rep Al Novstrup At The Legislature


Is He Arguing To Take Money Away From Kids Who Work?




(photo from Twitter.com)

Novstrup at yesterday's cracker barrel there was highlighted by his complaint that "99 percent" of the attacks against him and his business "are said on the internet by people hiding behind a computer." That's bull, as I and Cory Heidelberger over at Dakota Free Press (nee Madville Times) sure as heck comprise more than 1% of the internet barrage directed at Novstrup and his youth-wage-deflating efforts. Novstrup, who, with his father District 3 GOP Rep Al Novstrup, operates an amusement zone in Aberdeen that hires people age 16 and older, is understandably more than a little perturbed at us bloggers and assorted internet commandos who've had the temerity to suggest that there might be a conflict of interest involving the Novstrup legislative tag-team's support (Sen. David N. is the prime sponsor) of Senate Bill 177, which would create a minimum wage ($7.50/hour) for workers under the age of 18. That's $1.00/hour less than the one mandated by the voters of South Dakota last Fall, which is $8.50/hour, with automatic cost-of-living adjustments. SB 177 not only reduces the youth minimum wage, it also takes away the COLA. Says Senator Novstrup of the clamor about this on the internet

,
"Our family has put ourselves out there to serve the people of Aberdeen . . . We've spent hundreds of thousands of dollars in Wylie Park that we didn't have to do and we've provided jobs for young people — close to 200 in 20 years. Our business has done nothing but help the community. I don't care if you like or dislike the proposal, but leave that out of it."
S
orry, Senator Novstrup, but I have no intention of leaving "
that"
out of it, because
"that"
Great Place To Play In Aberdeen


Great Place To Work If You're A Kid? Maybe Not.




(photo from www.thunderroad.info)

just happens to be the crux of this conflict that you want us to ignore.

From the addendum below it's clear that Senator David Novstrup resolved the conflict in his favor by voting in 2011 for a law that exempts his amusement business from minimum wage requirements. In the piece from the Aberdeen American News, Novstrup says that even if passed, the bill won't affect local businesses because many places there hire people to start at $9 or $10 an hour. He says he has only one employee under the age of 18, so the bill will have "zero impact on our business." It's unclear as to how he came up with that "one employee" part--his amusement center doesn't open until April. But I don't see much relevance anyway. SB 177 gives businesses across-the-board the right to exercise the option Novstrup already has, namely ignoring existing minimum wage requirements.
T
he whole point of the minimum wage law that was passed by SD voters last Fall is that it takes away that option in the first place. Novstrup's counterparts in other businesses may not use it now, but it makes a nice fallback for those who hire young workers and can gain some economic leverage over them. Passing a law that creates conditions that could prove as favorable to the other businesses as it is to the Novstrups makes it possible for them to extend the already favorably resolved conflict of interest to the businesses (including the lobbyists at South Dakota Retailers Association) that support SB 177.
T
aking the Novstrups' personal business out of the equation doesn't change the odious nature of the bill. That it gives legions of other employers the authority to stick it to their youngest hirees is bad enough, that it provides no enforcement mechanism to back up the bill's mandate that employers can't fire older, more expensive workers and replace them with youngsters for less money makes SB 177 even more obnoxious. And as if odious and obnoxious weren't bad enough, the bill's flat out repudiation of what the voters of South Dakota wanted last Fall makes the whole mess stink to high heaven.
ADDENDUM (added at @1444 3/8/15): Over at
Dakota Free Press
, Senator Novstrup calls attention to a South Dakota law (
SDCL 60-11-3)
passed in 2011 that already exempts his amusement business from the minimum wage law. Senator (then Representative) David Novstrup voted in favor of the law on February 9, 2011. Get that? David Novstrup (curiously his dad Al voted against it, possibly concerned about the appearance of a conflict?) voted in favor of a law that exempts his business from minimum wage laws. Was this a conflict of interest or merely the appearance of a conflict of interest? You decide. I already have. Meantime, for all practical purposes, the Novstrups and their exempted business are indeed out of the equation on SB 177, though they stand ready to provide numerous other businesses in South Dakota with the same opportunity to pay young workers less money than their adult counterparts. Some folks sure dislike our young people in this state, don't they? And P.S. Why do amusement parks get a break on minimum wage requirements for young workers in the first place? What's so special about them?