T
he messy and distasteful processes of making law and sausage have long been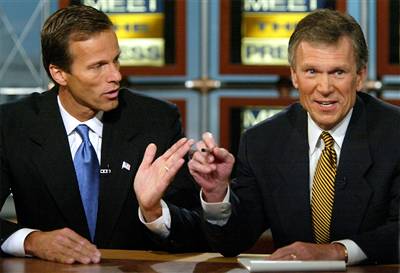 Thune and Daschle: Mr. Goose, Meet Mr. Gander


(photo from www.ontheissues.org)

documented, but rarely do we stumble on to a finished product that itself is as disgusting as the methods used in its creation. Such would be the case if South Dakota's House Bill 1176 makes it through the legislative process and gets signed into law by Governor Daugaard. This obnoxious piece of legislation would entitle a candidate in South Dakota to run simultaneously for any office while also running for the Presidency or the Vice-Presidency. For background, it will repeal a law passed in 2002 (HB 1116) that explicitly prohibits such a thing.
S
o what's the big deal? Only this: the current bill, HB 1176, is a malodorous mess that is the result of two stinkingly awful and transparent forces--hypocrisy and unrestrained political bullying. The original bill in '02 was a Republican legislature's means of keeping then-Democratic Senator Tom Daschle from running for re-election to his Congressional seat while concurrently running on his party's national ticket as either prez or veep. At the time, Daschle was a much-discussed presidential possibility, so the Pubs that ran the SD state legislature cut him off at the pass of being able to pursue his national ambitions
SD's Legislature Knows Something About Bull




Git 'im, Elmer. It's Another SD Democrat




(photo from www.thegreatbullrun.com)

while using his presumed-to-be-safe Senate seat as a fall back. I actually supported the measure, mainly because I'm not crazy about anybody using a U.S. Senate seat as a consolation prize in case that presidential thing doesn't work out.
B
ut now that our Republican Senator John Thune finds himself in the same place (up for re-election and often mentioned as a national candidate in 2016),
oh my
goodness, our GOP-dominated legislature suddenly gets so compliant about giving Thune the very option they took away from Daschle.
I'm wondering if anybody among the bill's sponsors can give us an explanation for this obnoxiously obvious inconsistency. I'd be inclined to call in the old canard about Daschle the goose and Thune the gander, but I think a fitting variation would be something along the lines of "what's good for the cow is good for the bull."
A
nd I do mean "bull."