J
ohnson is the South Dakota U.S. Attorney whose pending announcement of his departure
Brendon Johnson


He'll Do Well In Private Practice




(photo from www.justice.gov)

from that post in order to work in Sioux Falls for a Minneapolis-based law firm has been widely reported during the past few hours. His father is recently retired U.S. Senator Tim Johnson (D-SD), one of the most venerable politicians this country has ever produced, serving in the U.S. Congress as both Rep and Senator for nearly 4 decades, continuously. Given the bloodline and the high profile position as U.S. Attorney, Democrats in South Dakota have speculated, for the most part hopefully, that Brendan would soon enter politics and bring some powerful "name i.d." into the '16 races, challenging either Kristi Noem for the House seat or John Thune for the Senate.
M
y take is that Brendan Johnson has neither the stomach nor the money to make himself much of a candidate. His reluctance to speak out on the EB-5 "cash for green cards" scandal was a pretty clear signal that Johnson wasn't about to position himself as a crusading federal official involving an imbroglio that appears to have cost South Dakota more than $100 million. Johnson's refusal to testify to a South Dakota legislative committee investigating the matter turned into a significant Republican talking point because Johnson insisted that "guidelines" prevented him from commenting on whether or not there was an ongoing federal investigation into the matter. Pubs immediately pounced on Johnson's inconsistency by calling attention to an earlier case when Johnson told media that there was indeed a federal investigation into a matter then pending. Pubs then piled on by noting that a New Jersey U.S. Attorney had no reservationas about announcing a federal investigation into a matter in that state. The "guidelines" dodge may have some merit in writing, but in practice it has been ignored. Pubs capitalized big on Johnson's silence, claiming that it showed the federal investigation was over and done with and that there was nothing new to report. The conclusion? That Johnson's recalcitrance only fed into Democratic conspiracy theories. There was no pushback forthcoming from Johnson's office.
B
rendan Johnson's wussiness about coming out and saying something, anything, was probably the pin that deflated the ballooning of a matter that could have had serious political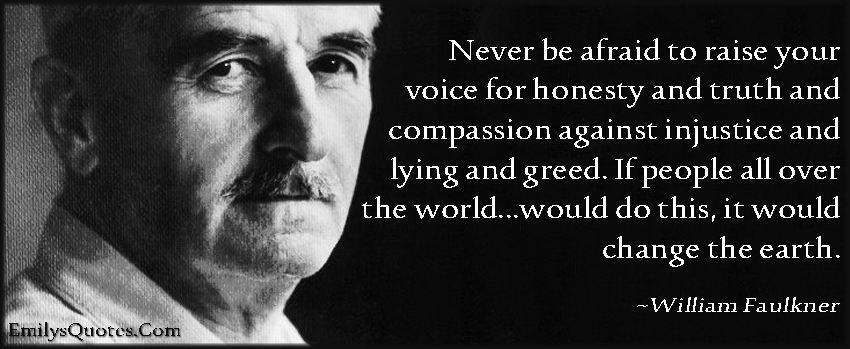 Is Brendan Johnson Familiar With Faulkner?


How About A Statement On EB-5, U.S. Attorney Johnson?




(photo from Emily'sQuotes.com)

consequences. For being so short of guts, my reaction to Johnson's departure is "good riddance."
A
shortness of guts will only be compounded by a shortness of cash if Johnson chooses to run in '16. Kristi Noem comes out of the last election with $800 thousand cash on hand. Considering that Noem was able to raise $2.4 million and that her status as a multi-term incumbent will only make fundraising easier, Johnson will have to scramble hard to come up with the dough it will take to match up. Given his commitment to private practice well out of public sight, I doubt that he can come up with the money to run for the House, and if he does, I have no doubt that the coffers of the national GOP establishment will gush with whatever money it takes for Noem to hold on to her seat. As to the Senate, ay yi yi! John Thune has $10 million on hand. If Thune decides to run for re-election, which he probably will, considering that his political value to a spot on the national ticket is minimal, Johnson doesn't have a chance. The private sector, where Johnson won't be compelled to put anything on the line, publicly, is probably the best place for this young man.