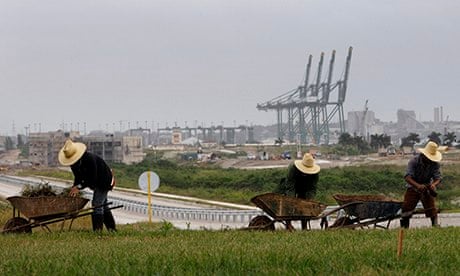 Cuban Farmers Near The Port Of Mariel


In A Country That's Aching To Modernize


(photo from theguardian.com)

O

ur Senator John Thune has it all wrong on his reluctance to lift the American trade embargo on Cuba.

Yesterday he

told the Rotary Club in Sioux Falls

"that there are conditions that have to be met before I could support [a lifting of the trade embargo]." Political reform is the

condition de la conditions

that Thune wants to impose on Cuba, presumably waiting for that country to democratize its political system before South Dakotans should expect him to support a lifting of the trade ban, which has been in place since the early 1960s. That the ban itself has had absolutely no effect on Cuba's political condition seems to escape Thune as he promotes his futile quest for change there.

This is actually a ridiculous position.

For one thing, even as Thune acknowledges, lifting the trade ban would do some economic good for the ag industry in this state, principally soybean farmers and hog producers whose goods will be eagerly consumed by millions of Cubans once they get their hands on them. For another, rejection of a pragmatic consideration in favor of a principle may have some honorable intent, but when the principle itself isn't supported by the reality of History, the intent rings with the hollowness of political dogma. When you consider the advances in living conditions and economic opportunities for billions of people since the evolution of free trade that has been in force since the end of World War II, it seems that Thune lacks an understanding of cause-and-effect. Trade itself has been the medium for the elevation of political and economic freedoms, mainly because ideas and ideals flow just as freely as goods and services when markets open up.
Thune Talking Ag At The Black Hills Stock Show
Get With It Thune. Cuban Trade Is A Good Deal.
(photo from http://www.thune.senate.gov/public/)
Most surprising to me is that Thune, a rock-solid Republican, doesn't seem to get that.
The point I'm making about the benefits of free trade is actually pretty standard GOP "boilerplate," often
echoed and advanced by The Heritage Foundation.
Like most Republicans (Thune apparently being an exception), I just happen to think that free trade benefits both trading parties. In this case Havana gets access to American goods and services, many of them coming from right here in South Dakota, which helps elevate the standard of living in Cuba and exposes it to an array of American influence, including our foundation philosophies about freedom and equal opportunity. I also happen to believe that by adding to the value of our products because of the increased demand, it invites more investment in and development of our principal resources, in this case our farmland and surrounding communities.
So get with it, Senator Thune.
Not only is it good enough for South Dakota--it's good enough for The Heritage Foundation. If the former isn't a powerful enough force to get you to move, the latter certainly should be. Get off your high horse and support free trade with Cuba.